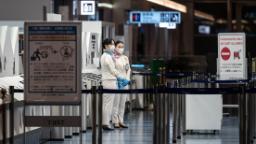 Hong Kong has tightened quarantine restrictions for arrivals from some African countries following the emergence of the Omicron variant.
From Tuesday, four African countries have been added to a list of high-risk locations with special additional quarantine requirements: Angola, Ethiopia, Nigeria, and Zambia. 
Hong Kong residents who travel from these four countries must spend seven days after arrival in a government quarantine facility where they will undergo daily Covid-19 testing. They must then spend an additional 14 days in compulsory quarantine at a hotel.
The requirement had already been put in place for Hong Kong residents arriving from Botswana, Eswatini, Lesotho, Malawi, Mozambique, Namibia, South Africa and Zimbabwe.
Non-residents traveling from these countries can not enter Hong Kong.
High-risk list: In addition, from Thursday, nine more countries will be added to Hong Kong's list of high-risk places, but without the need for additional quarantine in a government facility.
Those countries are Australia, Austria, Belgium, Canada, the Czech Republic, Denmark, Germany, Israel, and Italy, all of which have identified at least one confirmed case of the Omicron variant.
Only fully vaccinated Hong Kong residents will be allowed to enter from these countries, after which they must undergo 21 days of hotel quarantine. Non-Hong Kong residents who have visited these countries within 21 days are no longer allowed to enter Hong Kong.